How to Get Gift Cards, Without Spending Any Money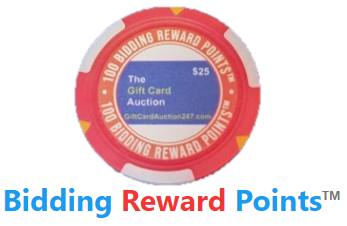 #1 Each week we hold a "Gift Card Auction" where you bid with - Bidding Reward PointsTM - for the gift cards you want.
#2 These are the same gift cards you see sold in stores but here you don't buy them, you bid on them by using Bidding Reward PointsTM not money.
No Money Required to Bid On this Gift Card
Card Value:
$15.00
US Dollars
Bidding Ends:
Wednesday, July 19, 2023 6:00:00 PM
Current Bid:
50
Bidding Reward Points
TM
#3 We'll show you how to get thousands of these Bidding Reward PointsTM without using any of your money.
#4 You may bid on as many cards as you like and everyone is welcome.
Imagine what you could do with a $25 gift card from Costco® or a $50 gift card from Amazon®. The next time you take the kids, or grandkids, to McDonald's® don't spend your money, just use your gift card.
The Neighborhood Events website uses the Gift Card Auction as a fun way to thank people for helping to add the events happening in their neighborhood to the NeighborhoodEvents.net website.
Think of all of the things happening in your neighborhood: The ball games at your local school, church festivals, parties in the park, fundraisers and garage sales. The list goes on and on. All of these are the kind of neighborhood events that are displayed on the events website for everyone throughout America to see. There are thousands of these neighborhood events, all over the United States, and we need help finding these events to display on the neighborhood events website.
From soccer games to a local dance, any event will work. If you know about events in your neighborhood all you have to do is tell us so we can show these events on our website. In return we'll give you special points called "Bidding Reward PointsTM" that you use to bid on any gift card you want.
Getting Bidding Reward PointsTM is easy. Using them is the fun part. Imagine what you could do with a $50 gift card from iTunesTM or a $100 gift card to take the family to Olive GardenTM for dinner. The next time you go to Home DepotTM don't spend your money, just use your gift card, all because you helped us hear about an event in your neighborhood.
Think of these points as a "finder's reward" for being the first to let us know about an event in your neighborhood.
You find an event. Help us add the event to our website. Receive your Bidding Reward PointsTM. That's it.
Get your points then look on the right side of this page and pick out the gift card you want. Click on the "Make a Bid" button and place a bid using your points. When you need more points just add another event. It won't take long before you have plenty of points so you can bid on as many gift cards as you want.
You don't have to sell anything.
You don't have to buy anything.
You don't have to go to any meetings.
You don't have to take any surveys.
You
do not

have to pay anything and there is

no cost

to do this.
You do this for fun whenever you want more points.
You can do this every day or every week; whenever you want. The more events, the more points. The more points, the more bids you can make.
If there is a garage sale in your neighborhood then you are ready to add an event. Fundraisers, yard sales or a great band playing at a local winery. Any event will work. A street fair or a local pub introducing a new craft beer are just the type of events we are looking for.
"What if I want to add the sports schedule for my child's school?"
Then you are going to have a lot of these Bidding Reward PointsTM to bid on gift cards. Two ball games are two separate events because they have different dates and different times.
Example: A high school football schedule usually will have 10 or 12 games throughout the season and each one is an event. If you add a sports schedule like this you get points for ten or twelve different events. That's a lot of points.
"I volunteer at my church. What if I want to list all of the church's events?"
Perfect. Just like the answer above; you are going to receive a lot of Bidding Reward PointsTM to use to bid on gift cards.
"What if I tell my friends on Facebook and they want to try this?"
If you invite a friend to try this, then you receive Bidding Reward PointsTM whenever they list an event and they receive Bidding Reward PointsTM. If you are serious about trying this then we have a complete list of the different ways to receive your Bidding Reward PointsTM in the member's area. In there you'll find a lot of ways to make a lot of points.
Think of all the events happening in your neighborhood
Here are just a few of the event categories you may use.
Antiques & Collectibles Shows
Art Fairs & Craft Shows
BBQ & Cookouts
Bingo Games - these are big at the Elks Lodges or the VFW & American Legion Halls
Bridge Games / Tournament.
Career Fairs
Chamber of Commerce Events
Charity Run / Walk / Jog Events
Church Events
Civic Organization Events
College & Trade School Events
Community Calendars
Concerts in the Park Events
Convention / Expo Events
Entertainment Events
Farmers Markets
Festivals & Street Fairs
Fish Fries - these are big at churches & VFW halls during lent.
Garage Sales
Garden Club
Holiday Events
Little Kid Events
Little League Sports Events
Local City / Town Events
Plays & Musical Events
School Events
Sport Tournament Events - if it's a sporting event, it's important.
Senior Events
Sporting Events - Baseball, Soccer, Pickleball, virtually any sport you can think of.
Wine, Beer & Bourbon Tasting
Woodworking Events - Hint: Home Depot has these each week.
Workout / Gym Events
We have hundreds of categories on our website so you shouldn't have any trouble finding events to make a lot of reward points.
"What do I have to do to start?"
Just press the Start Here button and we'll show you 29,000 great places to find all of the events you will ever need. Press the Start Here button to continue.
Thanks for taking a look at this.